The world of anime is filled with a lot of stories. They caught our attention and made us stick to our chairs for prolonged period of hours. There are stories that made us laugh, making us crave for more. There are also stories that played with our minds, making us wonder what will happen next. Then, there are also anime which serves a purpose of passing our time, stories that can be watched lightheartedly.
Among those anime, there is this category that leaves mark in everyone's heart. They started playfully, weakening our defenses. Once we put our defenses down they suddenly ambushed us, taking our hearts to an endless ride of emotions. Until such point where we can't help but bursts the deep emotions within, excreting all the tears that never stop flowing from our eyes. They leave us with a bittersweet taste, feeling of sadness, pulled heartstrings, convincing us that this memory is something that never to be forgotten.
The internet is filled with list of such stories. It is endless. Then comes, Animei-Chan, with a vision of putting such list to a conclusion. We, once again, explored the deepest corners of the internet. We seek the voice from the most famous website to the ends of the world wide web. Without further ado, we present you the saddest anime of all time.
10. Code Geass
In the year 2010, the Holy Empire of Britannia is establishing itself as a dominant military nation, starting with the conquest of Japan. Renamed to Area 11 after its swift defeat, Japan has seen significant resistance against these tyrants in an attempt to regain independence.
Lelouch Lamperouge, exiled prince of Britannia, unfortunately finds himself caught in a crossfire between the two nations' armed forces. He is able to escape, however, thanks to the timely appearance of a mysterious girl named C.C., who bestows upon him Geass, the "Power of Kings." Realizing the vast potential of his newfound "power of absolute obedience," Lelouch embarks upon a perilous journey as the masked vigilante known as Zero, leading a merciless onslaught against Britannia in order to get revenge once and for all.
The Code Geass anime series won: "The Best Anime TV Series" award at the 2007 Tokyo International Anime Fair, "The Best TV animation" award at the twelfth Animation Kobe, and "The Most Popular Anime" award at the Animage 's 29th Annual Anime Grand Prix.
9. Air
Yukito Kunisaki is on a journey in search of the Winged Maiden who was bound to the sky centuries ago, after hearing an old childhood tale from his mother. As Yukito shows his puppet show to people in an attempt to make some money, he finds himself in a small town in which he did not expect to stay very long. However, when he meets an unusual girl named Misuzu, things take a drastic turn as he is invited to stay with her.
By staying in the quaint town, Yukito soon becomes friends with the locals. As he gets to know them better, he learns of their problems and decides to help, putting his search for the Winged Maiden on hold. With his search on hold, and his growing attachment to Misuzu and the small town, will Yukito ever find the Winged Maiden, or is she closer than he thought?
8. Steins; Gate
The self-proclaimed mad scientist Rintarou Okabe rents out a room in a rickety old building in Akihabara, where he indulges himself in his hobby of inventing prospective "future gadgets" with fellow lab members: Mayuri Shiina, his air-headed childhood friend, and Hashida Itaru, a perverted hacker nicknamed "Daru." The three pass the time by tinkering with their most promising contraption yet, a machine dubbed the "Phone Microwave," which performs the strange function of morphing bananas into piles of green gel.
Though miraculous in itself, the phenomenon doesn't provide anything concrete in Okabe's search for a scientific breakthrough; that is, until the lab members are spurred into action by a string of mysterious happenings before stumbling upon an unexpected success—the Phone Microwave can send emails to the past, altering the flow of history.
Adapted from the critically acclaimed visual novel by 5pb. and Nitroplus, Steins;Gate takes Okabe through the depths of scientific theory and practicality. Forced across the diverging threads of past and present, Okabe must shoulder the burdens that come with holding the key to the realm of time.
Support the Industry: Buy Anime Goods!
7. 5 Centimers per Second (Byousoko 5 Centimeter)
Takaki Toono and Akari Shinohara, two very close friends and classmates, are torn apart when Akari's family is transferred to another region of Japan due to her family's job. Despite separation, they continue to keep in touch through mail. When Takaki finds out that his family is also moving, he decides to meet with Akari one last time.
As years pass by, they continue down their own paths, their distance slowly growing wider and their contact with one another fades. Yet, they keep remembering one another and the times they have shared together, wondering if they will have the chance to meet once again.
6. Tokyo Magnitude 8.0
Middle school student Mirai Onozawa is dissatisfied with her family circumstances and, in a moment of frustration, wishes to tear everything apart. Unfortunately, these destructive thoughts seem to come true in the form of a magnitude 8.0 earthquake just a few moments later.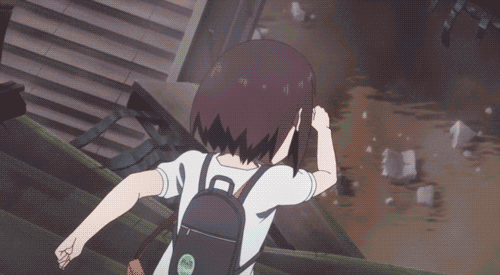 When summer vacation begins, Mirai reluctantly takes her younger brother Yuuki to Odaiba, where a robot exhibition that he wanted to go to is being held. However, while they are in the exhibition center, the fury of a major earthquake shakes the Kanto region; helpless, both kids witness the devastating power of this natural disaster as it brings the city to its knees.
In its aftermath, they stumble upon Mari Kusakabe, a motorcyclist and single mother who decides to help the young siblings. Aiming to return to their homes and reunite with their families, the group sets off on a long and hard journey through the decimated city.
5. Plastic Memories
Eighteen-year-old Tsukasa Mizugaki has failed his college entrance exams, but after pulling some strings, he manages to land a job at the Sion Artificial Intelligence Corporation. SAI Corp is responsible for the creation of "Giftias"—highly advanced androids which are almost indiscernible from normal humans. However, unlike humans, Giftias have a maximum lifespan of 81,920 hours, or around nine years and four months. Terminal Service One, the station Tsukasa was assigned to, is responsible for collecting Giftias that have met their expiration date, before they lose their memories and become hostile.
Promptly after joining Terminal Service One, Tsukasa is partnered with a beautiful Giftia named Isla. She is a Terminal Service veteran and considered the best in Giftia retrievals, contrary to her petite figure and placid nature. Time is fleeting though, and Tsukasa must come to terms with his feelings for Isla before her time is up. No matter how much someone desires it, nothing lasts forever.
Support the Industry: Buy Anime Goods!
4. Shigatsu wa Kimi ni Uso (Your Lie in April)
Music accompanies the path of the human metronome, the prodigious pianist Kousei Arima. But after the passing of his mother, Saki Arima, Kousei falls into a downward spiral, rendering him unable to hear the sound of his own piano.
Two years later, Kousei still avoids the piano, leaving behind his admirers and rivals, and lives a colorless life alongside his friends Tsubaki Sawabe and Ryouta Watari. However, everything changes when he meets a beautiful violinist, Kaori Miyazono, who stirs up his world and sets him on a journey to face music again.
Based on the manga series of the same name, Shigatsu wa Kimi no Uso approaches the story of Kousei's recovery as he discovers that music is more than playing each note perfectly, and a single melody can bring in the fresh spring air of April.
3. Angel Beats
Otonashi awakens only to learn he is dead. A rifle-toting girl named Yuri explains that they are in the afterlife, and Otonashi realizes the only thing he can remember about himself is his name. Yuri tells him that she leads the Shinda Sekai Sensen (Afterlife Battlefront) and wages war against a girl named Tenshi. Unable to believe Yuri's claims that Tenshi is evil, Otonashi attempts to speak with her, but the encounter doesn't go as he intended.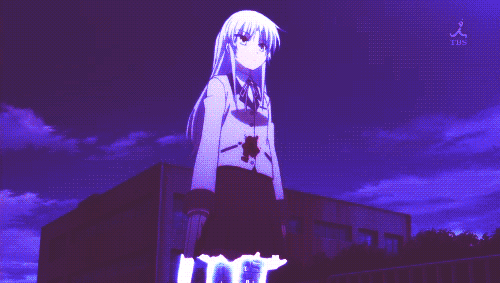 Otonashi decides to join the SSS and battle Tenshi, but he finds himself oddly drawn to her. While trying to regain his memories and understand Tenshi, he gradually unravels the mysteries of the afterlife.
Angel Beats! is an original anime that was created by screenplay writer Jun Maeda and directed by Seiji Kishi. A manga adaptation was later released by Jun Maeda and published by ASCII Media Works in Dengeki G's Magazine. The manga was used as a way to expand on elements of the plot that could not be fitted into the show's original running time. The series has been praised for its integration of music, humor, and action into a plot with deep and powerful themes. The show was chosen as a recommended work by the awards jury of the 18th Japan Media Arts Festival in the year 2014.
2. Clannad/Clannad After Story
Tomoya Okazaki is a delinquent who finds life dull and believes he'll never amount to anything. Along with his friend Sunohara, he skips school and plans to waste his high school days away.
One day while walking to school, Tomoya passes a young girl muttering quietly to herself. Without warning she exclaims "Anpan!" (a popular Japanese food) which catches Tomoya's attention. He soon discovers the girl's name is Nagisa Furukawa and that she exclaims things she likes in order to motivate herself. Nagisa claims they are now friends, but Tomoya walks away passing the encounter off as nothing.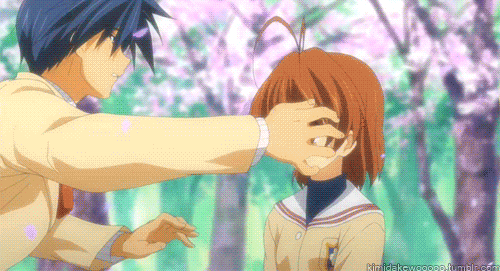 However, Tomoya finds he is noticing Nagisa more and more around school. Eventually he concedes and befriends her. Tomoya learns Nagisa has been held back a year due to a severe illness and that her dream is to revive the school's drama club. Claiming he has nothing better to do, he decides to help her achieve this goal along with the help of four other girls.
As Tomoya spends more time with the girls, he learns more about them and their problems. As he attempts to help each girl overcome her respective obstacle, he begins to realize life isn't as dull as he once thought.
Clannad is the anime adaptation of the visual novel developed by KEY for Windows PCs in 2004, which was later ported to PlayStation consoles and the Xbox 360. The game was the best-selling PC game in 2004 and charted in national top 50 rankings several more times afterwards. Clannad has been adapted into four manga adaptations, an animated film, two anime series, two OVAs, comic anthologies, light novels and art books. The anime series and OVAs were licensed in North America by Sentai Filmworks in 2009. The first season of the animated series received positive to mixed reviews, while the second season Clannad After Story received wide critical acclaim.
Support the Industry: Buy Anime Goods!
1. Ano Hi Mita Hana no Namae o Bokutachi wa Mada Shiranai (AnoHana)
Jinta Yadomi is peacefully living as a recluse, spending his days away from school and playing video games at home instead. One hot summer day, his childhood friend, Meiko "Menma" Honma, appears and pesters him to grant a forgotten wish. He pays her no mind, which annoys her, but he doesn't really care. After all, Menma already died years ago.
At first, Jinta thinks that he is merely hallucinating due to the summer heat, but he is later on convinced that what he sees truly is the ghost of Menma. Jinta and his group of childhood friends grew apart after her untimely death, but they are drawn together once more as they try to lay Menma's spirit to rest. Re-living their pain and guilt, will they be able to find the strength to help not only Menma move on—but themselves as well?
Ano Hi Mita Hana no Namae wo Bokutachi wa Mada Shiranai. reunites the lead production staff of the 2008 anime series Toradora! It was first teased in December 2010 as a joint production of Aniplex, Fuji Television, and animation studio A-1 Pictures under the title AnoHana Project. The series is set in the city of Chichibu, Saitama Prefecture.
Honorable Mentions
Hotaru no Naka (Graveyard of Fireflies)
Full Metal Alchemist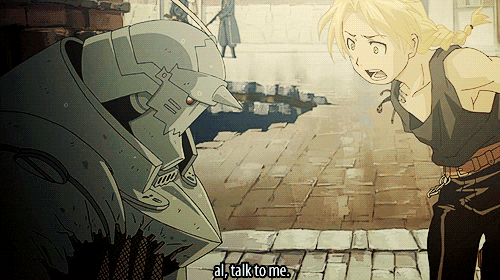 Ookami Kodomo no Ame to Yuki (Wolf Children)
This concludes the list of the saddest anime of all time. There might be rankings involved in this list but we can assure you that all of the anime included in this list are titles that everyone will enjoy watching.
Related Rank Ups:
3. Ranker Anime
5. PollMaker
Special Thanks to: MAL Rewrite. For Their Intensive Devotion for Writing Anime Synopsis.
Subscribe, Follow, Like and Share
Did you enjoy the list we have for you? Which sad anime did we miss? We like to hear more about it. Leave your comments on the comment section below.
Support the Industry: Buy Anime Goods!