Ai Kayano is a voice actress and a singer from Tokyo, Japan. She is acknowledged as the Best Rookie Actress on the 6th Seiyuu Awards and ranked #1 as a voice actress that gives off energy and healing in a survey conducted by Animate Times.
Ai Kayano is also known for her love for sake. She hosted a show titled "Kayanomi ~Kayano Ai ga Nihonshu wo Nominagara, Taberu dake~~" ("Kayanomi ~Ai Kayano is Eating While Drinking Sake~") at Animate Times' YouTube channel. The show focuses on her looking through into various types of Sake.
Birthday: September 13, 1987
Hometown: Tokyo, Japan
Blood Type: O
Selected Acknowledgement
Best Rookie Actress – 6th Seiyu Awards
#1 – Female Seiyuu that Gives off Energy and Healing
#3 – Female Seiyuu Ranking 2016
Selected Commendation
Nockman says:
the incredible diferent characters adjustments are so sick, like meiko (aohana) shiro (no game no life) to darkness and utaha sempai even chisaki
my favorite seiyu ever, godlike work *-*.
depression505 says:
Voice of the best masochist in anime ever, and she's pretty too? fyeee.
King_Jukes says:
Darkness, Utaha, Inori, Shiro !!! wow so talented
Related Rank-Ups
Selected Voice Acting Roles
1. Shigatsu wa Kimi no Uso – Aiza Nagi
Nagi is Kousei Arima's first apprentice and student. She is a first year student, studying a music course in Kurumigaoka Junior High School. She initially introduced herself as Hiroko Seto's fan, but her ulterior motives were revealed later on.
2. Ano Hana – Honma Meiko
Menma died several years ago, for unknown reason, she appeared to Jinta, a once energetic young boy and was the leader of their group of friends. She asked him to reunite their group so her wish can be granted. However, she does not remember what her wish is.
Despite being "dead", she is a very positive, energetic and lively person. She is quite selfless and cries very often for others when they are hurt or upset, but not for herself.
3. Shirobako – Ogasawara Rinko
Rinko works at Musashino Animation. She works as a star key animator, character designer, and the general animation supervisor of Exodus. She behaves very elegantly and doesn't talk much. Rinko is a very talented animator and many people admire her because of her work,
4. Girls und Panzer – Takebe Saori
Saori Takebe is the radio operator of the Anglerfish Team and one of the five main protagonists of Girls und Panzer. Saori is known for her cheerful and bubbly personality and is also a good chatter. She is interested in seeking out good-looking men to be her boyfriend, and claims to be an expert in the art of love and romance, but it is later revealed that she has never actually dated anyone.
5. No Game No Life – Shiro
Shiro is an 11-year-old genius, NEET (Not in Education, Employment, or Training), and a hikikomori gamer along with her step-brother, Sora. Together, they formed 『  』(Blank or Kuuhaku). They dominated the world of gaming and spawned urban legends on the internet until they are summoned in an alternate world where everything is decided through games.
Support the Industry: Buy Anime Goods!
6. ReLife – Hishiro Chizuru
Chizuru Hishiro is a third year student at Aoba High School, the school Kaizaki attends after he turned back to being a teenager. She is a highly intelligent girl who always seen getting the first place in any exam. Despite her intelligence, she is highly oblivious of her surroundings and people's feelings, openly voicing out unintended insults which hurted people around her.
7. Kono Subarashii Sekai ni Shukufuku wo! (KonoSuba) – Darkness
Darkness is a crusader who joins Kazuma's party on their quest of defeating the Demon King. Despite her nice appearance, she displays masochistic urges that baffle and annoy Kazuma to the point of disturbing the enemies they encounter. As such, she often intentionally puts herself in harm's way, like charging into the midst of a group of monsters, usually prompting a sharp remark by Kazuma regarding her excited reaction in an otherwise grave situation. Her masochism is rather extreme, deriving pleasure from both verbal and physical abuse, though her enjoyment sinks if it leads to public embarrassment.
8. Gochuumon wa Usagi Desuka?? – Hoto Mocha
Mocha Hoto is the older sister of Cocoa Hoto. She adores cute things and is very gentle and kind to others. She has the aura of a big sister and seems to be very dependable. Mocha is known for being more talented than Cocoa, but while she appears to have no flaws or weaknesses, she is very lonely without Cocoa. She carries a rolling pin around with her and likes surprising people.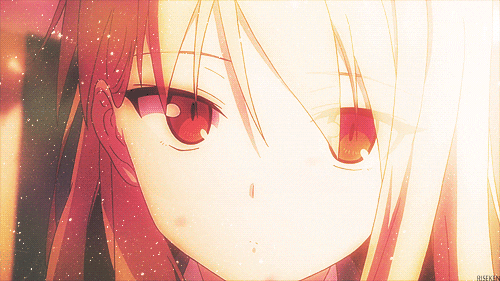 9. Sakuraso no Pet na Kanojo – Shiina Mashiro
Mashiro is a world famous artist who transferred into Suiko as a second-year to learn how to draw. She aims on drawing manga.
Other than drawing, she is otherwise extremely reliant on others. Thus, lacking even the most basic common sense. As a result, Sorata is forced to constantly take care of Mashiro, to the point that he has to practically dress her, or she will go to school without clothing.
Unwilling to pay attention in class, Mashiro has very poor grades. However, she is able to memorize what she can see at any moment by thinking of it as a picture. In order to stay in the school without failing; she memorizes the answers for the make-up exams in an instant, and gets perfect grades on all of them.
10. Servant x Service – Yamagami Lucy
Lucy is very hardworking, making her the ideal civil servant. However, it wasn't like she really wanted to become one. Behind her hard working exterior is a thirst for vengeance. Vengeance against the civil servant who approved her name without asking twice.
Lucy's full name is Yamagami, Lucy Kimiko Akie Airi Shiori Rinne Yoshiho Ayano Tomika Chitose Sanae Mikiko Ichika and so on.
Support the Industry: Buy Anime Goods!
11. New Game! – Tooyama Rin
Tooyama Rin is the Art Director of Eagle Jump, a game company where the story of New Game! revolves around. She is a very organised person and often helps others.
12. Saenai Heroine no Sodatekata – Kasumigaoka Utaha
Utaha Kasumigaoka is an up-and-coming young novelist. She is a student in class 3C and wears two hats as a student and a writer. She is a hardworking girl. Her usual disinterested expression strikes others to see her as an unapproachable person. Although, when she is alone with Tomoya's circle, she reverts to her disdainful self who enjoys making sarcastic remarks. She seems to be calm and quiet, but she actually has a sharp tongue.
13. Gakkou Gurashi! – Sakura Megumi
Megumi Sakura was a Japanese teacher at Megurigaoka Private High School and the faculty adviser of the School Life Club. She was affectionately called "Megu-nee" by her students.
Megumi was kind, patient young woman, who cared more for her students than herself. She had a soft tone in her voice and a generally a calm demeanor when around others. Despite being an adult, she was also very innocent and meek at times.
14. Guilty Crown – Yuzuriha Inori
Inori is a very soft, quiet, and sweet girl, who is very determined to complete her missions successfully and without fail. Inori Yuzuriha is one of the main protagonists of the anime, Guilty Crown, and a member of the resistance guerrilla group called "Funeral Parlor". As a member of  the resistance group, Inori is extremely skilled in forms of combat such as hand-to-hand fighting and marksmanship, to the point where she is able to outmatch and kill several soldiers of the GHQ forces by herself.
15. Getsuyoubi no Tawawa – Kouhai-chan
Kouhai-chan is a clumsy but reliable office woman in an anime adaptation of a illustration collection project which aims to provide a positive motivation towards workers and students alike on Monday mornings.
Support the Industry: Buy Anime Goods!
Related Rank-Ups
 Subscribe, Follow, Like and Share
Did you enjoy our thanksgiving feature? Which anime staff do you want to see next? We like to hear more about it! Put your comments and suggestions on the comment section below.
Support the Industry: Buy Anime Goods!